The Fourth of July can be a miserable day for dogs. The fireworks make scaredy-cats out of many canines.
Does your home or apartment need a pick-me-up? The creatives at Flavor Paper have collaborated with Michael Reynolds, Hoffman Creative and the Tom of Finland Foundation to create two wallpaper prints.
A Miami-area couple whose front-yard vegetable garden prompted a 6-year legal battle with their village has held a ceremonial replanting of veggies under a new Florida law legalizing such gardens statewide.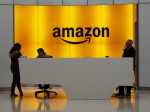 Amazon is adding a new way to get your packages: head over to another store's sales counter to pick it up.
As online shopping becomes ubiquitous, so do the boxes delivered to homes across the country.
As weed has become easier for people to get, it has also become a hazard for dogs.
Lynn Osborne has been remodeling two homes. They are different styles, in different states, with different contractors. But there has been one constant: Delays due to a shortage of skilled labor.
A third of Americans sleep with a "comfort object" from childhood, according to new research.
When dog owners go through a stressful period, they're not alone in feeling the pressure — their dogs feel it too, a new study suggests.
A new study examining the cleaning habits of 2,000 people found some interesting correlations when dividing the data by living situation.