Gay Fire Island: The Latest
Long after more flamboyant colleagues flamed out of President Donald Trump's favor amid ethics scandals, low-profile and folksy Rick Perry survived in the Cabinet in part by steering clear of controversy. Until now.
The impeachment investigation into President Donald Trump has thrust Washington into a political crisis. And Trump keeps adding to the chaos.
A defiant Prime Minister Boris Johnson said Saturday that he would resist attempts to delay Britain's departure from the European Union beyond the end of the month, after Parliament postponed a decision on whether to back his Brexit deal.
Students at a Wisconsin high school skipped class Friday and marched through the streets of the state capital to protest the firing of a black security guard who was terminated for repeating a racial slur while telling a student not to call him that word.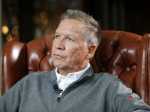 Former Ohio Gov. John Kasich, who ran against President Donald Trump in the 2016 Republican primary, said Friday that he supports impeaching the president — but isn't ready to call for his removal from office.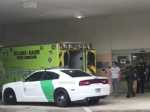 An armed Border Patrol agent roamed the hallways of an emergency room in Miami on a recent day as nurses wheeled stretchers and medical carts through the hospital and families waited for physicians to treat their loved ones.
After a police officer fatally shoots someone, it can take days or even weeks before the public or his supervisors hear the officer's version of what happened. In many states, that so-called cooling off period is carved out in state law or in a police de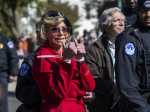 Inspired by the climate activism of a Swedish teenager, Jane Fonda said Friday that she is returning to civil disobedience nearly a half-century after she was last arrested at a protest.
It's Hillary Clinton vs. Tulsi Gabbard on the sidelines of the 2020 presidential race. The Hawaii congresswoman fought back unsparingly after Clinton appeared to call her "the favorite of the Russians" in a recent interview.
It wasn't too long ago that Donald Trump derided presidential executive orders as "power grabs" and a "basic disaster." He's switched sides in a big way: In each year of his presidency, he has issued more executive orders than did former President Obama.

None of these is legit, even though they were shared widely on social media. The Associated Press checked them out. Here are the real facts.
During her Las Vegas show Thursday night, Lady Gaga invited a fan onstage who picked her up and lost balance. Both plunged to the floor as a result.
The Trump administration is defending its get-tough approach to trade against widespread attacks from America's trading partners while at the same time arguing that many countries must increase government spending to boost global growth.
A Google affiliate started using drones Friday to deliver customers' Walgreens and FedEx purchases in a test being run in a Virginia town.

Under the Affordable Care Act, nonprofit hospitals are required to provide free or discounted care to patients of meager incomes — or risk losing their tax-exempt status. These price breaks can help people avoid financial catastrophe.
On the picket lines at a General Motors transmission plant in Toledo, Ohio, passing cars honked and striking workers celebrated a tentative contract deal by munching on 10 pizzas dropped off by a supporter.
They call it the Cosmic Crisp. It's not a video game, a superhero or the title of a Grateful Dead song. It's a new variety of apple, coming to a grocery store near you Dec. 1.

Health officials of Thursday said there have been 1,479 cases and at least 33 deaths in the mysterious outbreak.
Our essential guide for things to do on Oahu, from shopping and beaches to terrific restaurants and one of the best beachfront hotels.

Frank Ocean's Blonded brand is set to host a queer club night called PrEP+, so named for the HIV prevention drugs, and to imagine what the 80s would have been like if PrEP had existed then.