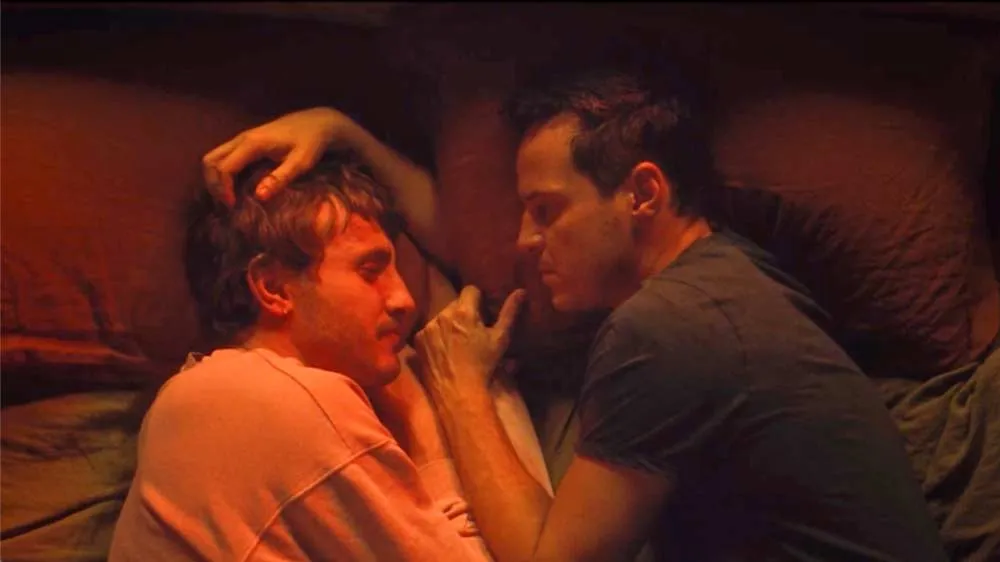 Watch: Trailer Drops for Andrew Haigh's Andrew Scott and Paul Mescal Romance, 'All of Us Strangers'
Searchlight pictures has dropped a trailer for one of the year's most anticipated movies: Andrew Haigh's romantic fantasy drama "All of Us Strangers," which pairs Andrew Scott ("Fleabag") and Paul Mescal ("Aftersun") as lovers named Adam and Harry, respectively.
The trailer shows how the two come together, with Harry knocking at Adam's door after noticing Adam staring up at his apartment from the street. A tender romance follows, but there's a parallel story in which Adam makes a wistful visitation to another residence: His own childhood home, where, unexpectedly, he meets his own parents (played by Jamie Bell and Claire Foy), alive and well and the same age they were when they died thirty years earlier, when Adam was only 12.
Adam's parent's aren't the only blast that's shown up intact from the past: He also discovers that everything in the ouse, including his boyhood bedroom, is exactly the same as it was.
The film's synopsis notes that Adam is a screenwriter, and the trailer shows Adam telling Harry he's "trying to write about" his parents, with the process going "strangely." (No kidding.) As the trailer unfolds, Adam shares heartfelt moments with his parents – so, is it all a product of Adam's imagination? Or is there more going on?
Perhaps the explanation is beside the point. The movie (which is based on the 1987 novel "Strangers" by Taichi Yamada) seems to be a medication on grief; when Ada, tells Harry "It was a long time ago," seemingly with reference to his parents' deaths, Harry points out that there's no set expiration date on grief: "I don't think it matters."
"Haigh previously directed the 2011 gay romance drama 'Weekend' along with the 2017 coming-of-age road film 'Lean on Pete'," Variety noted.
He also helmed the critically-acclaimed 2015 marriage drama "45 Years," starring Charlotte Rampling and Tom Courtenay, as well as creating the gay TV comedy/drama "Looking," which starred Murray Bartlett, Jonathan Goff, Russell Tovey, Frankie J. Alvarez, and Raúl Castillo.
Variety added that " 'All of Us Strangers' seems to mark one of his most personal endeavors yet," recalling that in an earlier interview with the magazine Haigh disclosed, "To suddenly deal with my own past at the same time as I was telling a story about someone else dealing with their past – I'm not sure if it was foolish, emotionally or mentally. But it was a really strangely cathartic experiment."
How exited are you for Andrew Haigh's new movie?
The film hits theaters Dec. 22. Watch the trailer below.
---
Kilian Melloy serves as EDGE Media Network's Associate Arts Editor and Staff Contributor. His professional memberships include the National Lesbian & Gay Journalists Association, the Boston Online Film Critics Association, The Gay and Lesbian Entertainment Critics Association, and the Boston Theater Critics Association's Elliot Norton Awards Committee.